HACCP
Thanks to our strict and rigorous control plan, we are committed to providing a safe and healthy product that complies with the Hygiene Package.
Control
Our control cards allow us to target and optimise the controls and analyses on your products.
Analysis
Each batch received is analysed. Partnerships with our suppliers allow us to receive the requested analyses quickly.
The Sanitary Control Plan
Audit
Through regular audits at origin, we deliver a quality product that meets your requirements.
Questionnaires
We provide our suppliers with comprehensive questionnaires, so we can ensure that our products comply with your specifications.
Ethics, social and environmental
Respect for the Global Pact and its values through human rights, international labour standards, the environment and the fight against corruption.
At Crustamar, traceability is one of our essential values.
Thus we do everything possible to ensure complete traceability from the origin.

The history
From pond to boat, from boat to your warehouse

The location
Knowing where your product is at all times: on its way by sea, in our warehouse, being delivered by land, or on your platform.

Identification
One single batch number on MASTER CARTON > DELIVERY NOTE > INVOICE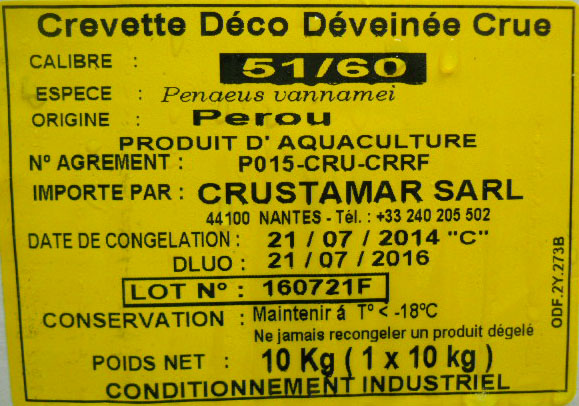 We are the first European importer to have integrated ISO 9001 certification.
Thus, for 10 years, Crustamar has been ISO 9001 certified.
This has allowed us to build our quality management system and to evaluate ourselves every year.
Our operation is still based on this certification.
In January 2018 we expanded our offer by offering BAP certified products.
Crustamar is also certified : BIO, and MSC and since February 2019 we are ASC certified.